Treatments
Micro Acupuncture Eye Treatment Program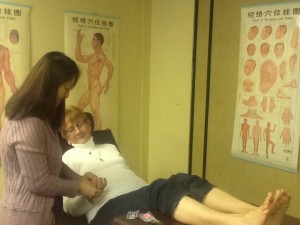 The whole initial Micro Acupuncture treatment program includes Energy Balance testing, visual acuity, vision field tests and 25 acupuncture treatments with average 3 – 5 treatments per day. Each treatment lasts from 20 minutes to 1 hour depending on individual cases.
When you come for the first appointment, please remember to bring a copy of your Ophthalmologist's diagnosis. To save time, we recommend you fill up the questionnaires forms that are emailed to you after you have made your initial appointment, and then either email it to the clinic at info@wcmacanada.com or bring it with you when you come. For Glaucoma patients, please do not use eye drops on the first day before the visual field scan.
The first treatment starts with assessment by the questionnaires you have filled up and an initial vision tests, then we'll customize a treatment plan for your condition, followed by acupuncture session.
After 9 to 12 treatments second vision tests will be performed and the comparison of these tests will show the effect of the treatment. At this point, we usually can see the improvement in light sensitivity and acuity.
As patients, the first thing you will notice is that your vision looks brighter. Some may notice that if they look at the visual acuity chart, they see smaller letters more accurately than they did before. If you have Macular Degeneration, you will notice that you can see smaller details like facial features more clearly. In cases of Retinitis Pigmentosa, Glaucoma, and Diabetic Retinopathy, patients may get the feeling of their vision widening.
If you have not been able to read for many years then it will take time before you are able to read again. Reading vision is about 20/50. If you come with acuity of 20/800 or worse, improve to 20/400 or 20/200, you still cannot read but you have improved greatly. Of course with more treatments you can regain your reading ability fully. If you have improvement in your peripheral vision, you may not notice an improvement in your reading acuity.
When improvement is noted we'll continue the program and your vision will slowly regenerate. You will have additional vision tests with further treatments. For the patient who doesn't show immediate noticeable improvement, we'd still recommend him/her finish the whole treatment plan as each person's constitution and condition are different from another therefore their eyes react to the treatments differently. As the acupuncture treatment not only treats the symptoms but also the root of the problem, in a long run, each patient will benefit from the treatment program either by obvious vision improvement or by slowing or halting the degeneration progression. Of course the patient is free to choose not to continue the treatment at this point.
Specially designed eye exercises will be introduced through the whole treatments. So you can practice them at home daily to help maintain or improve your vision.
At the end of treatment, we will recommend some supplements and/or traditional herbal remedies for you to take after you get home to maintain your vision quality between treatments. Patients who have discontinued use of the supplements usually end up having to come back earlier to receive treatments.
Whatever the reason has caused your vision degeneration, the bottom line is your eyes have been starved for a long time and have not been getting properly nourished. Acupuncture treatments and Supplements/herbal remedies go hand by hand. They cannot be separated. Acupuncture opens the body channels; supplements are able to reach to the eyes to provide the much needed nourishment and also to help maintain the treatment result.
Usually the patients who have had the initial treatment program need come back for follow-up treatments. 3-4 times per year in the first two years after the initial treatment is recommended. After that every 6 months or one year.
Acupuncture treatment is not a cure, but it can definitely improve vision and slow down or halt the degeneration progression. So far the clinical record shows the successful rate is 90-95% considering the retina cells or optical nerves have not been permanently damaged .
Patient Forms
After you have made your appointment with us, please make sure you have requested and received the following forms by email from us and fill out these forms to either email back to us or bring them with you on your first visit. (We recommend you scan or take a photo and then email back to us just in case you forget to bring them with you when you come.)
General Intake Form
Health History Form