About
Welcome to West Coast Micro Acupuncture Vision Clinic Webpage
If you were diagnosed with one of the degenerative vision disorders by an ophthalmologist but were told there was no treatment for your condition, or you are already one step ahead looking for alternative treatment options, then you are at the right place.
WCMA is the first vision clinic in Canada that specializes in the treatment of degenerative eye disorders by using Micro Acupuncture as main protocol. Our mission is "Saving Vision One At A Time"! We provide the best quality services to the vision challenged individuals who are seeking to improve their vision and to live or maintain their quality life.
Micro Acupuncture has been practiced mainly in US for over 20 years by only a few specially-trained acupuncture practitioners. It has helped thousands of patients who had degenerative vision disorders around the world. It is a unique, effective and yet non-invasive acupuncture modality for treating many vision disorders. Apart from traditional acupuncture, it mainly concentrates on hands and feet. Due to their special connections with eyes, optic nerves and related organs, it can help repair and rebuild the eye tissues to improve or restore visions on different levels. Combining with proper herbal or/and dietary supplements and other treatment modalities (depending on individual patient's condition), patients often see improvement in a matter of a few days. Based on the clinic experiences, it usually takes one to two weeks after the treatment to see the full result. For the ones who do not see the immediate or obvious result, it doesn't mean the treatment is not working. For someone whose vision has changed from 20/800 to 20/600 after the initial treatment, he/she is still not able to see yet, but that is the beginning of improvement for him/her. Time period for improvement is different for everyone as each one's pathological and physical conditions are different. It may take longer time and more comprehensive treatments for some people. For those who don't see any change on their visual acuity and visual field, the treatment may still play the crucial role for halting the progression of the disease.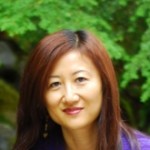 Cheryl Wang, BA, R.Ac, R. TCM.P, is the graduate of CTCMV (International College of Traditional Chinese Medicine of Vancouver) and WCI (Western Canadian Institute of TCM Practitioners). She has been a Licensed Acupuncturist and TCM (Traditional Chinese Medicine) practitioner since 2002 from CTCMA (College of Traditional Chinese Medicine Practitioners and Acupuncturists of British Columbia)
She specializes in treating Eye Degenerative Disorders with Micro Acupuncture as main protocol. She has undertaken one on one exclusive advanced training in treating vision disorders including Macular Degeneration, Retinitis Pigmentosa, Diabetic Retinopathy, Glaucoma, Stargardt's, and other vision disorders with Dr. Otte, the founder of Micro Acupuncture. She is the first and the only practitioner in Canada who has been trained and certified by the founder of micro acupuncture to treat vision disorders with Micro Acupuncture.
Her personal experience with Traditional Chinese Medicine since childhood has built a rich foundation to her knowledge and skills. She never stops learning. All the continuing professional trainings throughout all these years have deepened her knowledge and sharpened her skills.
She has been trained to treat variety of conditions with different modalities such as Chinese Cupping, Bleeding Therapy, Traditional Chinese Herbal Medicine, Nutritional Supplements, Electrical Stimulation, Moxa Therapy, Scalp Acupuncture, Auricular Therapy, Facial Acupuncture Rejuvenation, NADA detox, Sports Acupuncture, Master Tungs' Acupuncture, Korean Hand Therapy and Qi Beauty Anti-Age Facial Rejuvenation…… Now she dedicates most of her time to the treatment of vision disorders using Micro Acupuncture combining with Nutritional Supplements, Traditional Chinese Herbal Medicine and other treatment modalities depending on the necessities of each patient. "Helping people see better" is her lifetime passion and dream.
If you have any questions, please feel free to contact her via email at info@wcmacanada.com
She is available by appointment only.